Welcome
Fall EOC Information
End-of-Course Exams begin on Monday, Dec. 9, 2019. It is very important that students be at school by 8:00 each day so that they can start testing on time.
The entire schedule can be found
here
.
Boys' Cross Country & Girls' Tennis are Region Champs AGAIN!
FFA Christmas Trees & Wreaths
The CHS FFA is once again selling Christmas tree and wreaths. This is a major fundraiser for our program. The following is pertinent information:
Trees will be No. 1 selected N.C. Fraser Firs.
Christmas Tree Price List

4 to 5 Foot $25
5 to 6 Foot $45
6 to 7 Foot $50
7 to 8 Foot $55
8 to 9 Foot $65
9 to 10 Foot $80
10 to 11 Foot $90
11 to 12 Foot $110
16 inch Wreaths $20

Tree pick-up dates are as follows:
Friday, November 29, 2019, from 10:00 to 2:00
Saturday, November 30, 2019 from 10:00 to 2:00
Monday, December 2, to Friday, December 6, from 10:30 to 3:30
Trees can be picked up at the Clinton High School Greenhouse, and you will have a choice of the trees we have available in the size you pre-order on a first come first serve basis.
Trees need to be paid for at the time of order, or arrangements made for payment at pickup through Mrs. Bodie or Mr. Faulkner
ASIA Whitmore
is the 2019 CHS Homecoming Queen! She is pictured above with her escort, fellow senior, Diego Washington.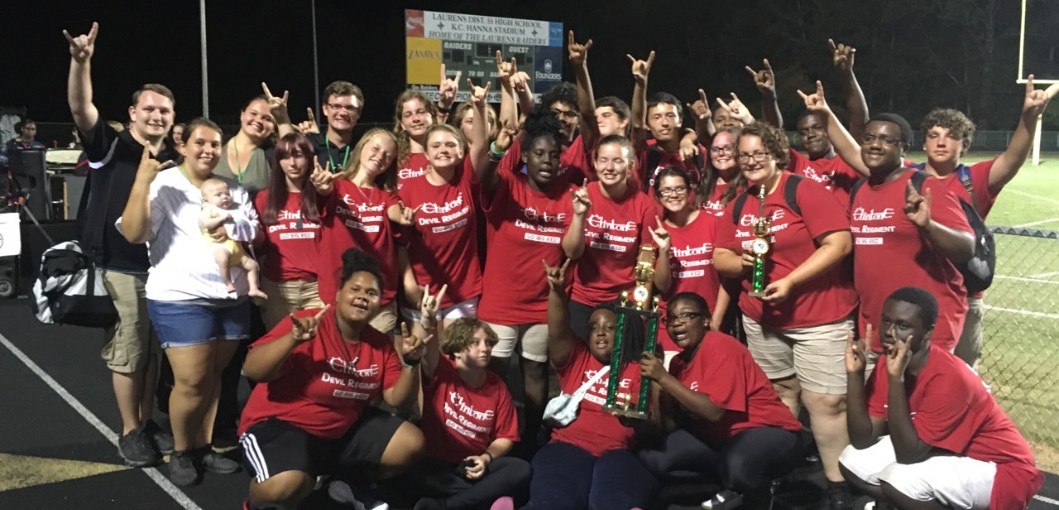 Congrats to the
Devil Regiment!
On Saturday, Sept. 28, The Clinton High Devil Regiment took 1st place in Class 1 at the Henry Laurens Invitational Band Competition, beating out Chester, Whitmire, Dixie, and Saluda. The Devil Regiment also took Best Music Performance of Class 1. We are RED DEVIL PROUD of you!
REACH 2019-2020
Ready to Excel at Clinton High is taking applications for this school year. See Mrs. Spigener or Mrs. Sharp to get yours. You can find out more information here.
Miss CHS 2019

Nytiyanna Robinson
Left to Right: Savanna Moates, Miss Congeniality; De'Asia Boys, Miss Freshman; Tytajha Robinson, Miss Junior;

Nytiyanna Robinson, Miss CHS; Anna Murphy, Miss Senior; Savannah Varney, People's Choice and Most Photogenic; De'Nysha Smoot, Miss Sophomore
Thank you to everyone who attended and supported the pageant.

We raised over $1500 for the March of Dimes!