Welcome
20 hours ago
Miss CHS 2019

Nytiyanna Robinson
Left to Right: Savanna Moates, Miss Congeniality; De'Asia Boys, Miss Freshman; Tytajha Robinson, Miss Junior;

Nytiyanna Robinson, Miss CHS; Anna Murphy, Miss Senior; Savannah Varney, People's Choice and Most Photogenic; De'Nysha Smoot, Miss Sophomore
Thank you to everyone who attended and supported the pageant.

We raised over $1500 for the March of Dimes!

Wind Ensemble Scores EXCELLENT!

Our students did a great job at Dorman High School on March 16, in the South Carolina State Music Festival (officially called Concert Performance Assessment.) The ensember had a performance of three pieces on stage, judged and rated by three professional adjudicators. Then, they performed a piece of music that none of them had ever seen in the sight-reading room. Two judges graded them there.

Overall, the band scored an Excellent rating from the judges and had the highest score possible in the sight reading portion of the festival. Congratulations to these young men and women and their instructor, Mr. Kolman McMurphy!

PAINT & POUR

Clinton High School After Hours is hosting a spring Paint & Pour on April 9, from 4:00-6:00, in the CHS Art Room. You will paint an acrylic masterpiece with step-by-step instruction from the Art Club and National Art Honor Society. All art supplies, plus refreshments will be provided!

Cost is $20 for adults, $15 for students, and $10 for children 13 and under.
Email Mrs. Adri Jordan (adrijordan@lcsd56g.com) to sign up!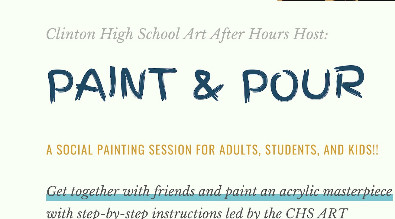 Payne Receives All-State Plaque

Senior basketball player Jadarius Payne received his All-State plaque on Friday, March 15, at a special dinner at Sewell's in Columbia. He is pictured here with Head Basketball Coach, Eddie Romines. Congratulaions, JD!

Smith Places Second in Region

Senior Nick Smith placed second in the Region 2 Extemporaneous Speaking Career Development Event. He is now qualified for the state competition where he will have the opportunity to move onto the National competition. Congratulations, Nick!

THANK YOU!
Clinton High School would like to thank all of the fathers and daughters who came out for the third annual Father-Daughter Dance at CHS on Sat., Feb. 16. $3500 was raised and will be given to Make-A-Wish South Carolina! What a fantastic event!
Parent Google Form

Please take a moment to complete this form for your student so that he or she may receive a Chromebook once school begins.

R.E.A.C.H. @ CHS

Is your 9-12 grade students Ready to Excel At Clinton High? Join our new after school program to REACH your own next level of success! Students who come and bring their best effort, attitude, and behavior will earn points toward privileges, trips, use of the 3D printer, and other great rewards.

PUrchase Your Yearbook

2018-19 yearbooks are on sale now for $65! They will be sold exclusively online here.